Share the post "iPhone updates, your old iPhone is still the same"
In today's society, when we talk about technology, Apple is in most of cases, the company that is the most linked to this word. It is defined as an innovative, fashion and top of the range brand. According to Apple, for iPhones, and MacBooks, more than 90% of customers are enjoying their products and don't want to change them. Thanks to these numbers, Apple is the most profitable company in the world.
I am one of these happy Apple customers, but since I bought my first iPhone in 2009, a 3GS, I've been thinking that my smartphone is slowing down every year, most of the time after a system update. What could be the reason of that? Is it Apple who was reducing performance of the phone after an update, or if it is because of my usage, or other components inside the phone?
Futuremark, a company based in Finland, specialises in benchmarking of hardwares and softwares since 1997. They have been testing iPhone 5S, 6, 6S and 7 in order to analyse the performance of the GPU (Graphics Processing Unit) and CPU (Central Processing Unit) to answer to the question "is Apple reducing performance of older devices?".
Here are the results for the iPhone 5S, 6, 6S and 7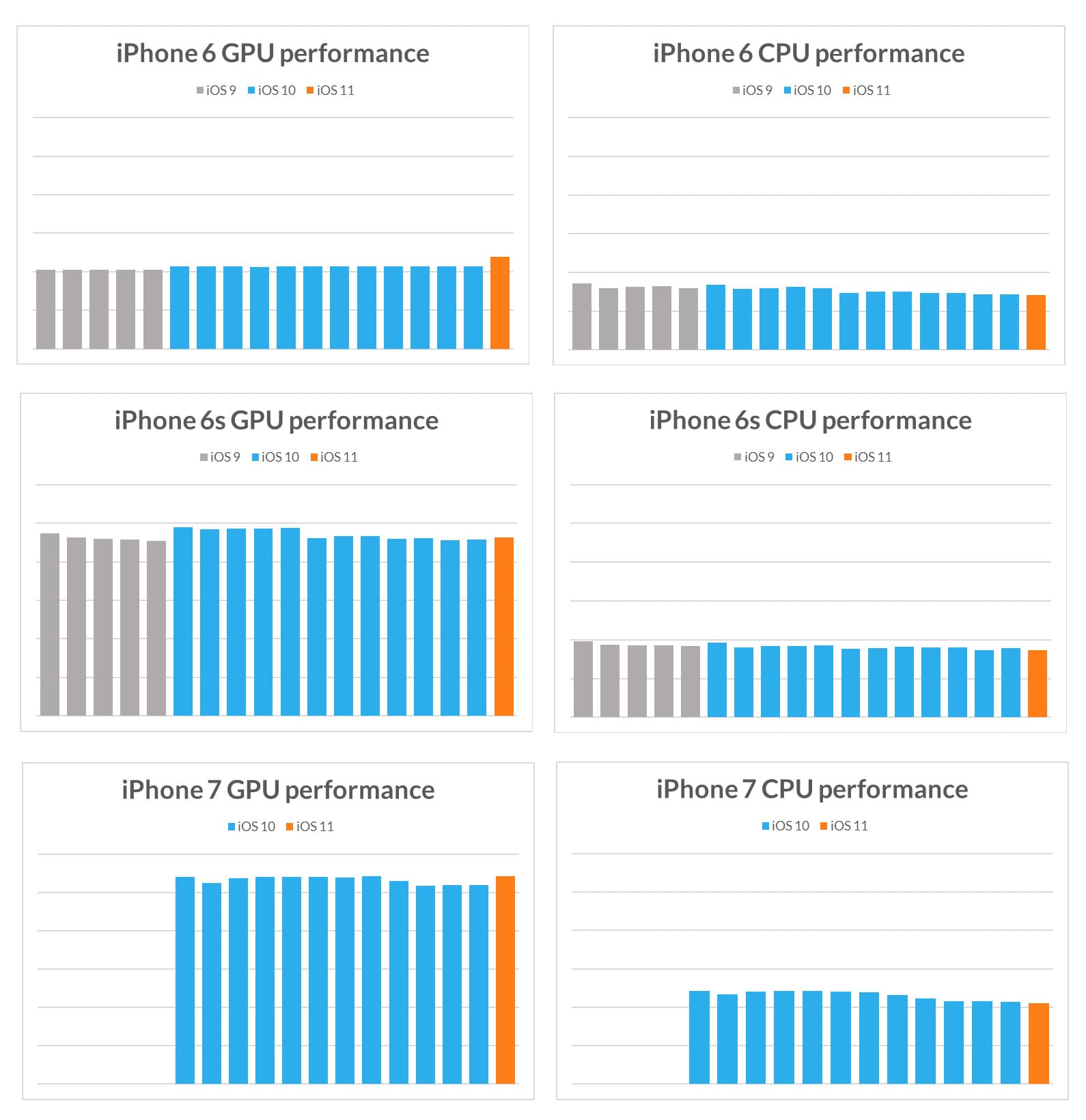 We can see that every iPhone, whichever iOS (Apple's Operating system), has always the same result whether it was GPU or CPU, in other words, the phone have the same performance regardless of iOS version. Sometimes a little difference can be noticed, but it isn't possible to feel this difference when you use the phone.
So where is this feeling of slowness coming from?
It can be explained by the development of the operating system that has more functionalities, or functionalities that need more energy. More energy means less performance for the rest. Moreover, when you buy a new iPhone, it is new, and has almost the full capacity, but after one year or two, every application on the phone are becoming bigger and more demanding.
To conclude, the feeling of slowness isn't because of Apple who is reducing the performance of our dear iPhones, but because of extra applications or functionalities that are using more energy for the same thing with a phone that is more filled up.
Sources :
https://www.igen.fr/iphone/2017/10/les-performances-des-iphone-ne-se-degradent-pas-avec-le-temps-101520
https://www.futuremark.com
The following two tabs change content below.
Latest posts by Remigiusz Charlet (see all)