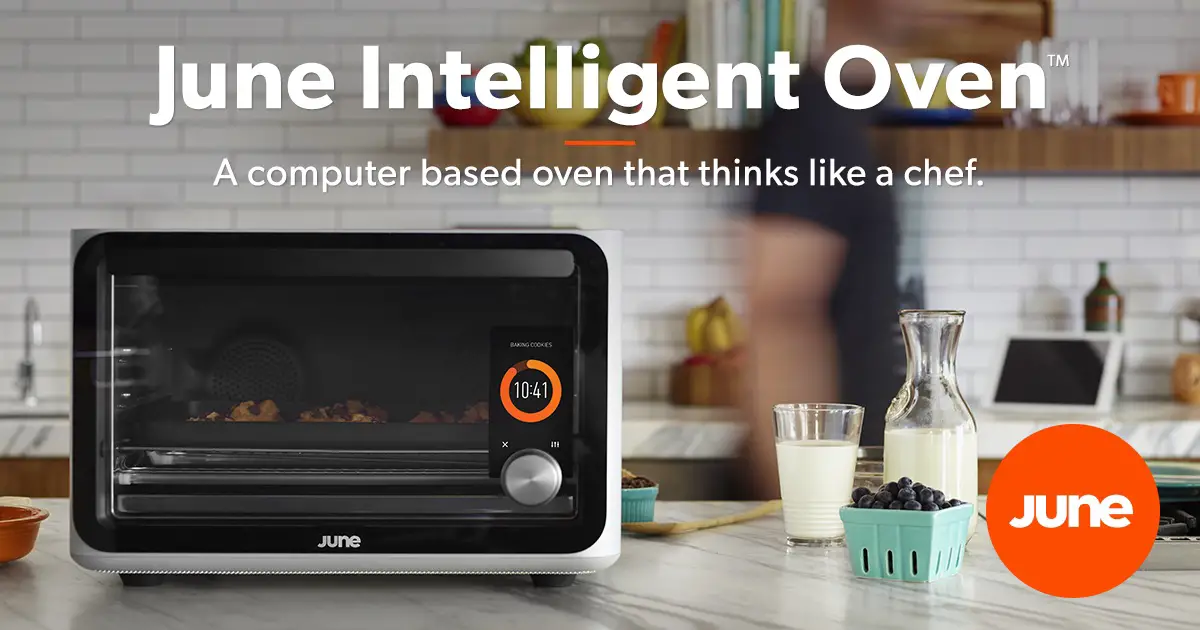 The minute I heard about this marvel, the decision to write an article regarding The June came to me by itself. It left me dazzled by a broad range of features that I can only hope will become standard in toaster ovens in the future. These functions all together make this "smart" toaster oven worth your look. At least, considering the ability to cook things ranging from eggs to popcorn there! June doesn't act like a simple oven, it acts like Alton Brown, in the flesh, is in your kitchen, translating overwhelming instructions into quick, digestible steps for you so that you can concentrate on doing other important things.
---
So let's move on to the deepened acquaintance of this classy looking appliance. Just to be clear, it's designed by former Google, GoPro and Apple employees. The June oven has an Apple product vibe, which makes sense because June partnered with Quantum Computers, the manufacturer of Apple's laptops and Watch. Both the oven and its interface are stunning. You can confirm that just by looking at the product!
The appliance constitutes an Internet-connected toaster oven that acts as a convection oven, toaster, air fryer, dehydrator, slow cooker, broiler, and finally…warming drawer! So you don't need a lot of electronic devices in the kitchen, freeing up countertop and cabinet space. As you might have guessed, it's aimed at busy folks who like homemade meals but don't want to be chained to the kitchen. June is a helpful kitchen assistant that lets you go do your things without the risk of burning the house down. Maybe it doesn't save you time, but at least offers peace of mind.
"In a short amount of time, it's proved itself a reliable performer that I can use in more ways than I ever expected I could."

The happy customer : )
You can operate the June from the touchscreen on the front, that is pretty beautiful and responsive, not worrying if your fingers are a bit greasy or wet from meal prep. Another way is to manage it from the June app (iOS and Android compatible), on which I would like to dwell on. For beginners to pair the June app with the toaster, it's necessary to enter a security code generated by the app on the touchscreen of the toaster. The possibilities that open of using it impress. Let's just watch together:
You are offered a lot of interesting updated recipes as well as step-by-step video instructions for meal prep
You can preheat the oven even when you're far from it
You watch the temperature rise as the oven preheats
You get a notification when the June is ready to cook
There is countdown based on the time you set for your bake
Finishing a bake results in two notifications
It automatically turns off the heat after the food is done and keeps it warm
The app is very attractively laid out, but that's not all. Most importantly, there's the heat and fog resistant camera inside the oven that can identify up to 65 foods you put inside as well as offer a predetermined cook time to ensure the ideal meal. But the absolute best thing about this camera is that you can watch what you're cooking as it cooks (and others can, too) simply clicking on "live video". Enjoy how your meat caramelizes, cookies harden, or chocolate chips melt… You'll definitely open the app more often than any other ones on your phone. The next logical step of the "live video" feature, of course, is to share the video with someone. It's pretty hilarious, isn't it?
At the same time, I have to be critical to this innovation, drawing on a range of not so pleasant comments. The first claim is for June's price, that is higher than for the regular oven. Excuse me, but you're buying nothing but benefits! The next one:
"Cleaning is a pain. With all the slick shiny metal surfaces, it is hard to keep the thing clean. When you use it a lot, like any oven, it builds up a stubborn layer of splatter that does not want to come off. To the top of that, the camera became to work worse…"

The pessimistic customer : (
Come on, any kitchen electronic devices become dirty with time. But unlike them, the June will remind you to clean it.
For the next complaints, I have no counterarguments.
"The app is beautiful but sometimes glitchy."

"Kitchen gadgets often try to reimagine a single task. As the result, they poorly combine multiple tasks."

"June isn't going to replace your instant pot or rice cooker. The instant pot is insurmountable."
What do you think? Whether the disadvantages really overweigh the advantages?
To my mind, the June Intelligent Oven is a beautiful piece of hardware that eliminates the excuses for making meals at home. I think smart devices such as these are our future. Maybe it's crazy to imagine a world where all your smart appliances can talk to one another. For example, if the June oven could check my smart fridge for which ingredients I have and suggest something to make, then my smart fridge could automatically place an order to Amazon Fresh to restock anything that is missing. That would really be the ideal. For now, the June oven is a promising glimpse of that future, but it isn't quite there yet.
---
Links:
The following two tabs change content below.
Latest posts by Puhach Anhelina (see all)