Share the post "ECO GARDEN: THE SMARTEST INTERACTIVE ECO SYSTEM"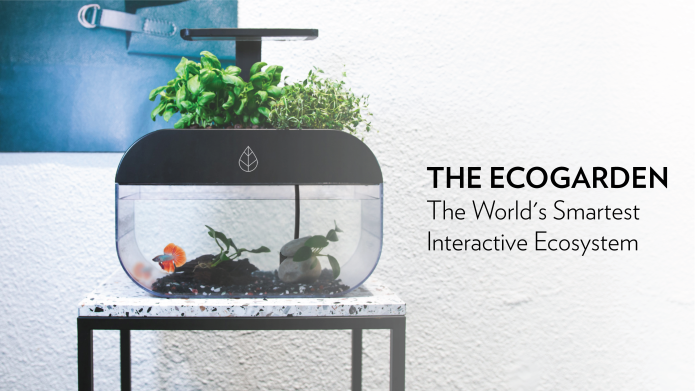 The EcoGarden is a combination of a smart miniature greenhouse and a self-cleaning aquarium. This system helps you to grow up herbs or vegetables. What is the most exciting is that you can monitor and control your ecosystem remotely from your phone and it also gives you whole information about condition of your garden. Also, you can feed your fish or check temperature in aquarium.
So, how it works? 
'Aquaponics' – growing technique which uses the fish waste as the nutrient source for the plants, while the plants naturally filters the water which is recirculated back to the fish. A natural and effective way of cleaning your aquarium, creating the ultimate self-sustaining and resource efficient ecosystem where plants and fish live in symbiosis. It is absolutely eco-friendly, because it does not requires soil or chemical fertilizers.
Creators say that they want to grow smarter and more eco-friendly generation that will love nature and know how to behave with animals and plants.
Eco-garden has a plenty of benefits:
it is automated and very functional
has a nice design
fresh & organic produce
friendly with a nature
Today more and more people start to live in big city with busy lifestyle polluted environment. Therefore, people, who live in huge cities, can feel nature in their home. It is the best solution for all ages also, especially for children.
To conclude my words, I would say that our planet has enormous problem about over-population and air pollution. So, eco-garden can make your air fresh and atmosphere in your house greener.
References:
https://www.indiegogo.com/projects/ecogarden-world-s-smartest-interactive-ecosystem#/
and my own words))
The following two tabs change content below.
Latest posts by Padalka Andrii (see all)