Reading Time:
2
minutes
Startup Aevum from Alabama (USA) presented on December 3 aerial vehicle Ravn X, designed to launch small spacecraft into orbit. It weighs in at approximately 55,000 pounds when it's carrying a full payload, making it one of the heaviest unmanned aircraft in existence today.
The promise of the drone is that it can put a payload in low-earth orbit in approximately three hours, a fact Aevum claims will allow it to shorten lead times on satellite launches from years to months. Outside of its ominous-looking exterior and record-setting mass, the Ravn X isn't so different from other aircraft. It only needs about 1-mile of runway to get in the air, allowing it to take off from almost any commercial airport. It also uses the same fuel as a traditional jet.
Once the Ravn X gets up to a suitable altitude, the two-stage rocket it's carrying drops from its belly, igniting in about half a second. Eventually, Aevum says 95 percent of the launch vehicle will be reusable, but to start about 70 percent can be used again. When the Ravn X finishes a delivery, it simply lands and heads back to a hanger to prepare for another launch.
Aevum says the Ravn X represents a new paradigm of putting a rocket into space. And while the autonomous aspect of its approach is different, there are other companies working to put rockets into space from aircraft. Virgin Orbit is one such company — though it has yet to successfully complete a test launch.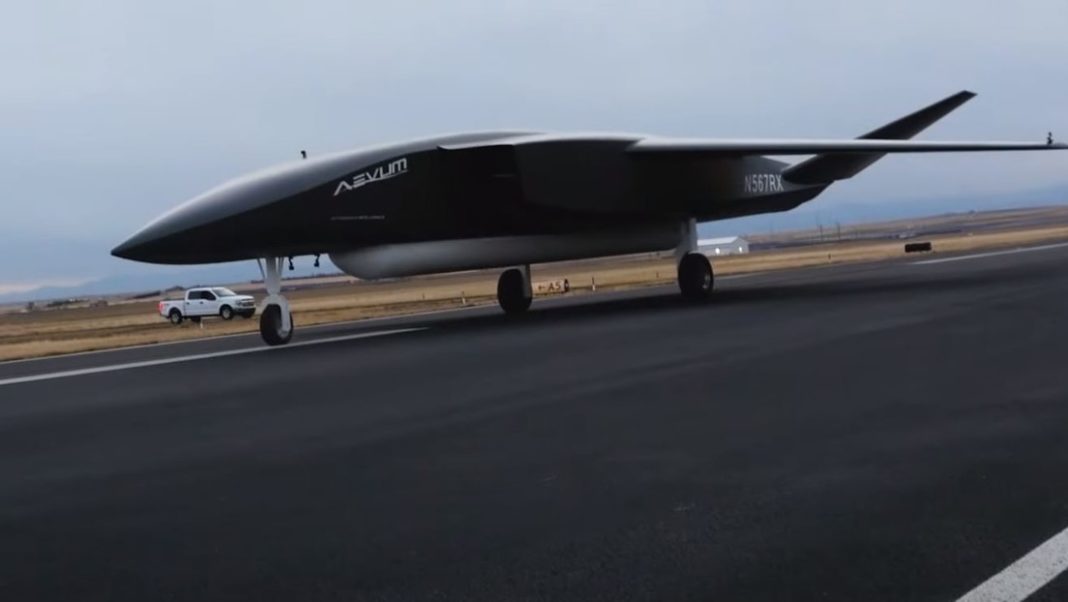 One of the key differences between Aevum and other space launch startups is that Ravn X already has been awarded prestigious government contracts totaling over $1 billion including the upcoming ASLON-45 mission with the United States Space Force. ASLON-45 is the first formal small launch mission contracted by the U.S. Space Force under its SRP-O program. Other active contracts include an AFWERX Small Business Innovation Research (SBIR) Phase II contract for rapid launch and space logistics, a broad scope, under a special topic developed for rapid transition of the SBIR program which includes sole-source eligibility for Aevum, a nod to Aevum's unique value proposition to the government market relative to other small launch companies.
In addition, USAF Space and Missile Systems Center's Launch Enterprise Small Launch and Targets Division awarded Aevum its Orbital Services Program-4 (OSP-4), Indefinite Delivery/Indefinite Quantity (IDIQ) contract, giving Aevum the ability to compete for 20 missions over a 9-year period.
The sum-total value of these 20 missions is $986 million. With the OSP-4 IDIQ, Aevum stands alongside some of the most well recognized and established players in the industry to support the USAF with flexible and responsive launch services.
Sources:
https://www.universetoday.com/149181/the-ravn-x-is-a-new-autonomous-aircraft-designed-to-launch-small-satellites/
https://3dnews.ru/1027060/predstavlen-bespilotnik-aevum-ravn-x-kotoriy-smoget-bistro-i-chasto-vivodit-sputniki-na-orbitu
https://news.yahoo.com/aevum-ravn-x-233606617.html
https://www.businesswire.com/news/home/20201203005732/en/Aevum-Rolls-Out-Ravn-X-The-World%E2%80%99s-First-Autonomous-Launch-Vehicle-and-the-Largest-Unmanned-Aircraft-System-UAS