Reading Time:
2
minutes
Atari is a company founded in 1972 in California. Their products such as "Pong" and "Atari 2600" revolutionized the market of consoles and PCs. Games such as "Pac-man", "Space Invaders" and "Asteroids" are still luring in new players and also getting remastered and updated. The further models created in 1980-1990 were also very popular: "Atari 5200" and its successor "Atari 7800".
The newest creation of the company is "Atari VCS. "Xbox X series" and "PlayStation 5" got everybody's attention this year. The new product of Atari is also interesting, but due to Covid-19 its release has been delayed. The console which is coming in the next year will be a hybrid of a gaming console and a computer. It will operate on Linux system with an option to run on Windows 10. Internet browser is installed, so we can use the device like a normal PC. Despite this, Atari has been originally made for gaming. It will offer over a 100 classic games from previous generations of Atari consoles, but also will be able to run the newest releases. It will be based on AMD R1606G central processor using Radeon graphing processing technology. It will also enable to use a lot of accessories like mouses, keyboards amd microphones and on top of it all, there will be an option to plug the console to your own PC via USB or Bluetooth. Apart from external accessories, the bundle will include classic joystick (used in atari previous generations of games) and a modern controller. The new console will be also able to stream all the games you play on almost every streaming platform. On top of it all, Atari enables to customize the Ram and storage of the device.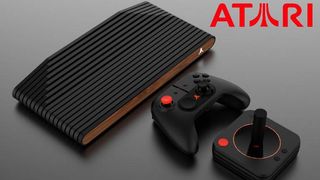 This is certainly an interesting event, especially with the big premieres of other next-gen consoles around. Innovative approach gives the company a head-start. Atari will certainly catch by heart numerous players filled with nostalgia and desire to move to the past. This may be a beginning of retro games coming back to the market.
Sources:
https://www.techradar.com/news/atari-vcs-release-date-games-price-and-everything-you-need-to-know
https://www.indiegogo.com/projects/atari-vcs-game-stream-connect-like-never-before#/