Reading Time:
2
minutes
Anemia is the most common blood disorder, a symptom of reduced amount of hemoglobin and red blood cells. It already affects more than 2 billion people worldwide and it's usually diagnosed by blood tests, however now, you can download the application on your smartphone and check if you have anemia just by taking picture of your fingernails.
Source: private gallery
Wilbur Lam and his team at Emory University created an algorithm, which detects anemia by assessing the concentration of hemoglobin from the color of people's fingernail beds, cause the fingernail color is a good indicator of the blood's hemoglobin levels.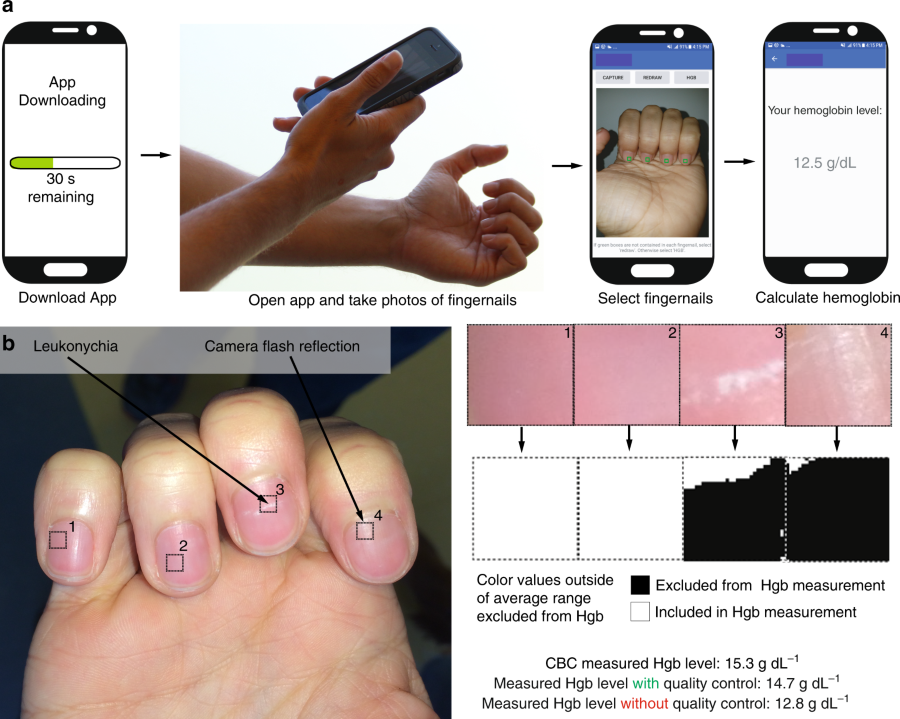 Source: nature.com
Researchers conducted a four-week study, which involved 337 people, inclouding healthy people and those who were not tested for anemia. Now that the application is known to work, researchers are working on improving it and making the app more user-friendly, to release it next year.
Of course, the app is not as precise as a blood test, but it's much more accessible and cheaper than seeing a doctor. Lam says:
"So often when you're talking about medical equipment and devices you're talking about, okay, we've got the data, now we have to make a prototype, and then from that prototype, we have to manufacture. We don't need any of that. This project is as nimble as the way Uber would change its interface."
References:
https://www.technologyreview.com/the-download/612510/an-app-can-tell-if-you-might-have-anemia-by-looking-at-your-fingernails/?fbclid=IwAR2GvtycZ2hpm0P5Yf2DgZs_hJ6237hdFF7wCWJJ9l2OHglNNNP6JpGzshY
https://thenextweb.com/apps/2018/12/05/a-new-mobile-app-can-detect-anemia-without-a-blood-test/
https://www.fastcompany.com/90275927/take-a-photo-of-your-fingernail-and-this-app-can-tell-if-you-have-anemia?fbclid=IwAR0KuzbCCwJShqts1qv0TRk62xlHKKTe5cztnX3G9gnkL7SENvyPJDq07_A