Reading Time:
3
minutes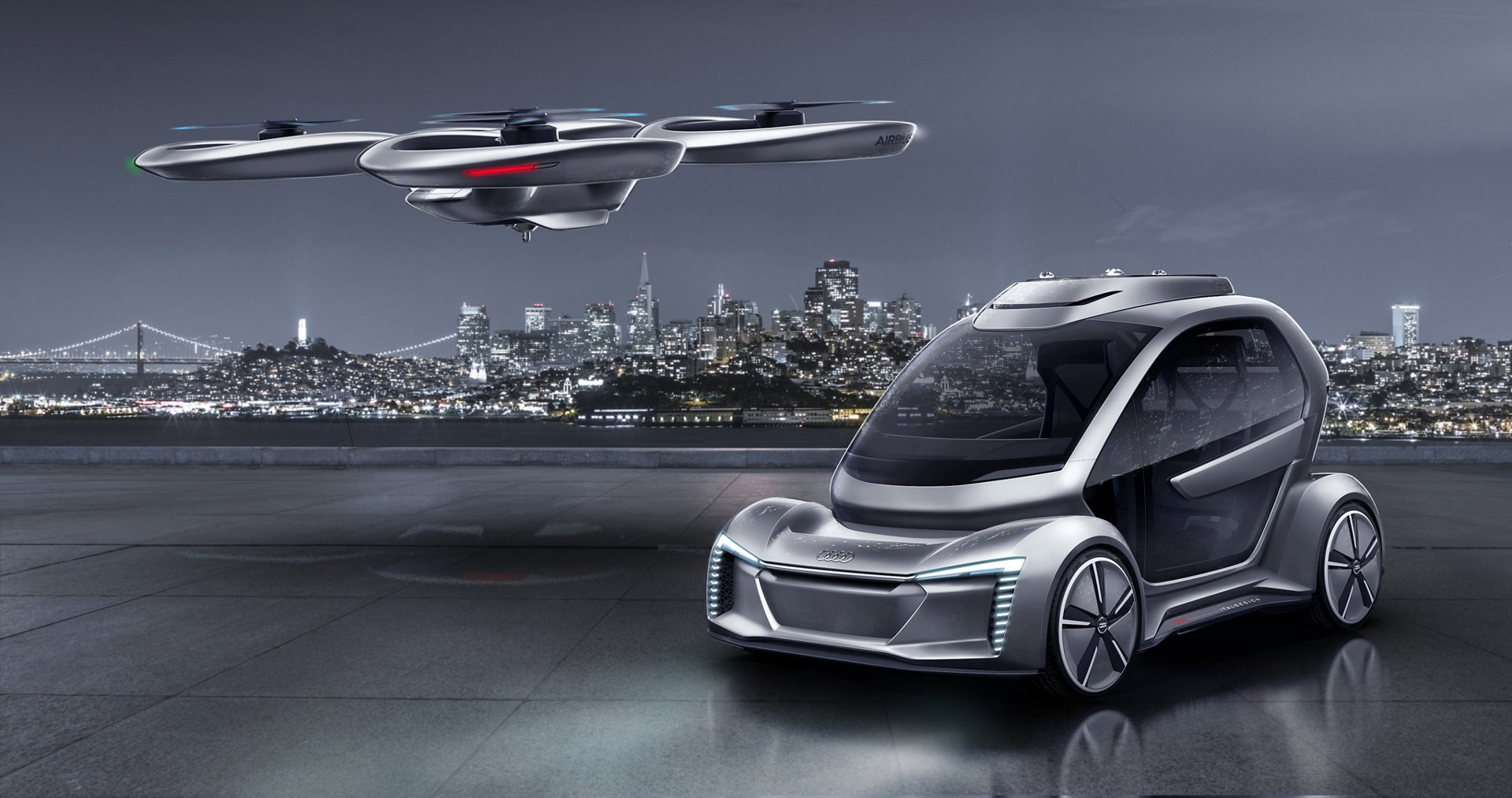 ---
Stock up on strong nerves as well as fat wallets to make use of the world's first airborne automobiles on an industrial scale.
---
The idea of Urban Air Mobility (UAM) so far remains pie in the sky for someone, but it's not for aviation giant Airbus, German car manufacturer Audi, and Italdesign design house. The trio collaborated to develop real, near-term urban mobility solutions for avoiding rush hour, unveiling a scale-model prototype of a flying drone-car called the "Pop.Up Next". Why are we still obsessing, if there's a chance just to fly over traffic jam that we are sick of?
"This important partnership with Audi addresses both current and future challenges for urban mobility. As a first concrete milestone in the cooperation we are developing, we will be offering multi-modal transportation solutions to the world's most congested cities," said Airbus CEO Tom Enders. "The world is rapidly urbanizing, and ground infrastructure alone cannot meet the demands of tomorrow. Increased congestion is pushing the cities' transport systems to the limits, costing travellers and municipalities valuable time and money. Adding the sky as a third dimension to the urban transport networks is going to revolutionise the way we live – and Airbus is ready to shape and build that future of flight."
Well, the car-drone combo is made up of three separate modules, which allow customers to have a seamless and ultra-convenient travel experience. The key component is a capsule for passengers that is 2.5 meters long and 1.4 meters high. Its modular design means that it can easily unhook from its chassis with wheels and get airlifted by an accompanying drone, which is autonomous and powered by 4 rotors. The so-called cubicle can attach to a battery-powered chassis to become a two-seater electric car. Without the cubicle, the chassis can drive only 100 kilometers on a single charge, so we are faced with not a long-distance vehicle concept, unfortunately.
No less interesting is the fact that passengers can summon the drone using a phone app that can also suggest the best transport solutions as well as ride-sharing demand and relative cost. The capsule can even be paired with other futuristic transport systems, like the Hyperloop.
Despite the fact that the model's test flight went off without a fault, Airbus executive Jean Brice Dumont is prudently optimistic about when the Pop.Up system will actually become a reality.
"I think it will take more than a decade until a real significant, massive deployment of an air taxi system" is ready, he said, and "for this we need to tick a list of boxes. The vehicle is one, safety is the overarching one, infrastructure is one, acceptability is another one."
However, the serious competitor Uber turned out to be even more ambitious. Last year, the transportation company revealed an artist's impression of a sleek machine with the goal to start using for demonstration flights of the year 2020 and by 2023 for actual use. Uber's battery-powered aircraft looks like a blend of a small plane and a helicopter with fixed wings and rotors.
So, what to expect from state-of-the-art technology?
You must agree, that anxiety comes in this case by itself. The barrier standing between you and a future of commuting through the skies is bravery. The fact that you may feel uneasy in a flying car, that was once just a stupid dream from your childhood is hardly a shocker. That's not to say that they're unsafe, anyway, the parachute, of course, should help. You're still going to have to entrust your life to a vehicle. And yet, the attractiveness of freedom and faster journeys might be sufficient for many people to roll the dice.
Links: