Reading Time:
2
minutes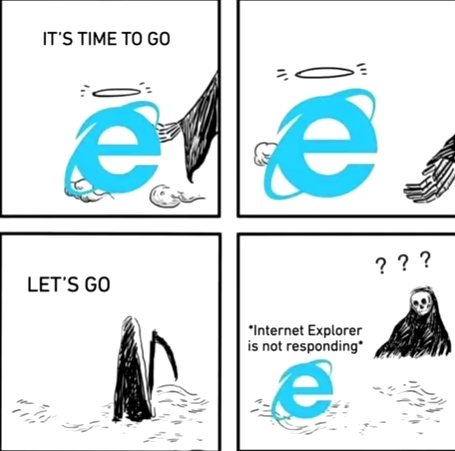 Loved by few, hated by many. The legendary browser that enabled us all to view our profiles on Facebook or MySpace is soon to be a thing of the past. The infamous Internet Explorer (IE) has been reportedly shut down and the Microsoft will no longer offer support to this app.
Developed in 1995 for the upcoming Windows 95 package, and offered as the default browser for all Windows computers, generated a lot of users. By 2003 it had a 95% usage share among all browsers. From there, the usage plummeted, as Google's Chrome, Mozilla's Firefox and Opera's Opera quickly outperformed the good old IE. Windows tried to revive it and keep it living for almost 2 decades more, but the time has come to put it all to an end. The explorer will live on in the form of the Microsoft Edge which will be still offered in Windows products until 2029, and after that the future is unsure.
We all remember the years of pain the poor performance gave us and the time spent waiting for a website to load, which would usually end in code 404 provided by the great IE. Still, we can thank it for the memories of our younger years and for being a good meme material.
It sadly is the sign of an era coming to an end, and let us raise one last glass to our good pal, Internet Explorer. Our task is to tell our children about this ancient app, that did not work and caused us so much trouble, and remind them how lucky those bastards are with good internet speeds and browsers that let them do whatever they want.
Share your best memories about the Intenet Explorer in the comment down below👇
References:
https://www.theverge.com/2022/6/15/23167121/microsoft-internet-explorer-end-of-support-retirement
Yes, Internet Explorer Is Dead, But Will Microsoft Edge Take Over?