Reading Time:
3
minutes
A compelling argument for a decentralized approach when using artificial intelligence systems for creative purposes. And also an attractive business – numerous project participants had the opportunity to make good money in the future. Botto generates thousands of images, but only the community of people supporting the project decides in which direction the "creator" should work and which works will go to the auction. Only owners of Botto cryptocurrency can vote.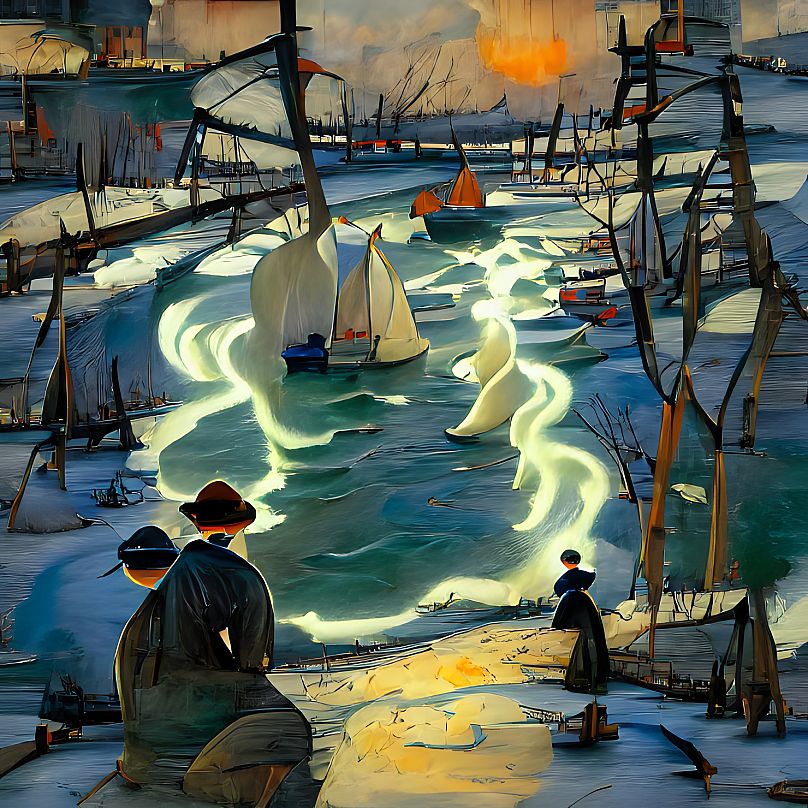 Every week, Botto presents fifty art pieces to the community, who then vote on their favorite artwork
How Botto creates art?
Botto's work begins by generating a line describing a new painting, a kind of technical task. The text is transmitted to the VQGAN neural network, which recognizes it and matches image fragments to words, and then combines them into one picture. It is sent for verification to another CLIP neural network, which determines the correspondence of the image to the words, makes corrections and sends everything back to VQGAN for revision.
When CLIP is satisfied with the result, Botto uses the GPT-3 natural language generator to create a poetic description of the painting. After that, the finished painting is sent to the evaluation of human critics – 300 different images per day. Based on the voting results, a certain number of works are selected, which receive an NFT token and are put up for auction.
How it's work?
Botto's philosophy of work is built in such a way that he constantly challenges critics while improving his skills. To be able to "compete" with AI, you need to pay for participation in a special cryptocurrency created exclusively for this project. The money that comes from the sale of paintings is used to buy it out and "dispose of", so the amount of cryptocurrency is constantly decreasing, and the value is growing. And it gives members the opportunity to make money by selling their inventory, which weeds out random people.
Criticism
As for me, it is not correct that they are engaged in artificially raising the prices of their coins. They burn part of their coins so that the price of the remaining ones would rise and over time a kind of deficiency was formed.
While the robot is only learning, then its actions are based only on the information received and interpreted in its own way over time it will be able to come up with something of its own, but still there will be no soul in it and most importantly it will be without UNIQUE HISTORY.
Ending
In the end, I would like to recommend visiting his official website and be sure to go to the gallery to view all the paintings. (https://app.botto.com/) Also I recommend to read his Manifesto (https://botto.com/Unicist_Manifesto.pdf)
Will the machine be able to create as a person in the future? And can it be considered art?
Sources
https://www.techcult.ru/technology/10358-ii-hudozhnik-botto-zarabotal-svoj-pervyj-million-dollarov https://3dnews.ru/1054804/iihudognik-botto-zarabotal-perviy-million-dollarov-na-nftkartinah https://newatlas.com/collectibles/botto-ai-art/ https://forklog.com/ii-hudozhnik-botto-zarabotal-bolee-1-mln-na-prodazhe-nft/ https://app.botto.com/