Reading Time:
3
minutes
James Webb Space Telescope is often dubbed the long awaited 'successor' to famous Hubble Telescope. With its recent start on 25th of December 2021 let's delve into the details of the telescope's mission and elaborate on some differences between 'Webb' and 'Hubble'.
Webb's Origin and Development
The idea for a Next Generation Space Telescope was born in the 1990's. It was planned to observe the Universe in the infra-red spectrum, which would allow to see space objects much farther or colder than Hubble could see. It was initially intended to launch in 2007, but in 2000's it was still in early development. The first deadline was deemed impossible to meet, so the whole project was re-planned with the seven-fold expansion of the initial budget, and the launch was put-off to somewhere in the following decade. Eventually, the project's budget exceeded $9 Billion, with European and Canadian Space Agencies contributing hundreds of millions of dollars, as well. Due to both, technical issues and factors independent of the space agencies, like the most recent Covid-19 Pandemic, the start of the mission of the Webb Telescope was scheduled for 2021. The Telescope was eventually launched from Europe's Space Port in French Guiana on 25th December 2021.
Differences between other space telescopes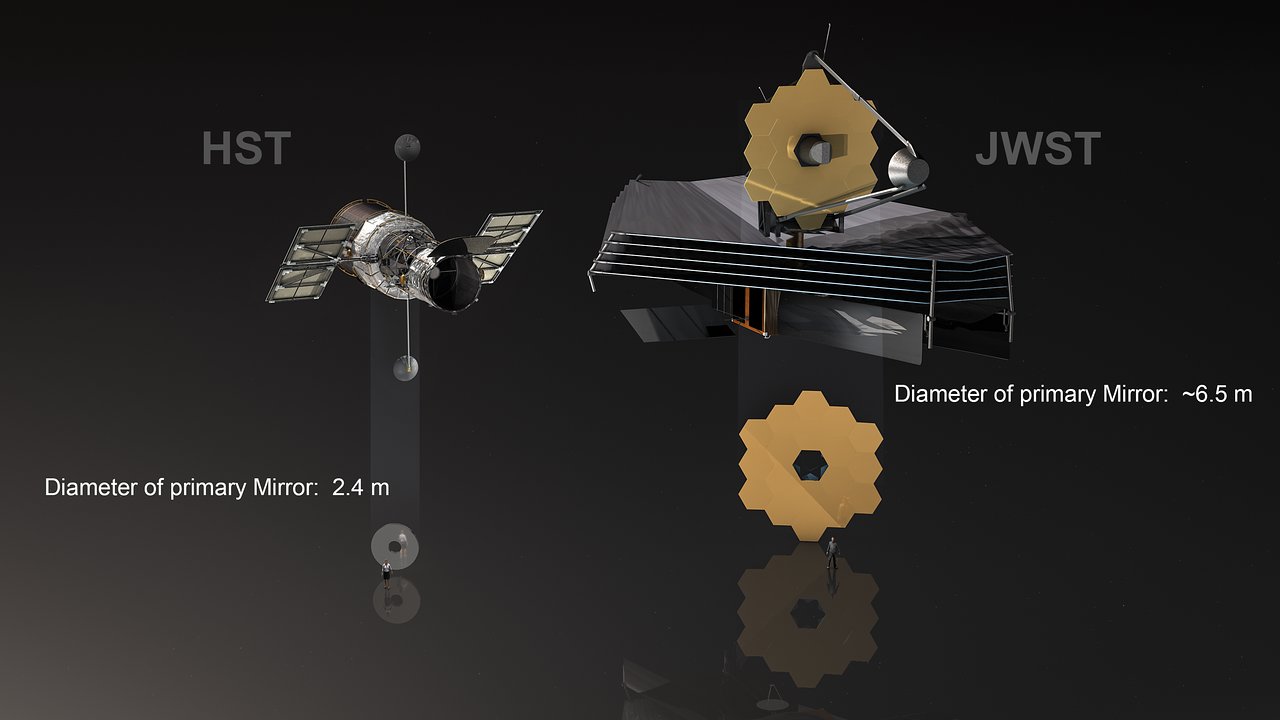 One of the most significant differences between Webb and Hubble is the location of the mission. While Hubble is operating from Low-Earth Orbit, Webb will observe its targets from so-called 'Earth – Sun Second Lagrange point' (L2) which effectively means that it is few times further away from Earth than the Moon. Other very important difference is the wavelengths which telescopes utilizes. Hubble can see light varying in wavelength from ultraviolet to close infrared, while Webb can see much farther into infrared, which will be its main frequency of operation, just like Spitzer Space Telescope. Webb has also main mirror more than two times larger than Hubble's with a diameter of 6.5 meters.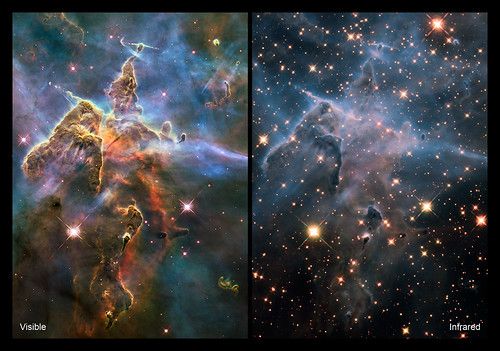 The mission
Currently the Telescope is travelling to L2, where it will make its research. After its arrival to the orbit in late January 2022, the 6 months long preparation phase will follow. When Webb is finally calibrated, it may start its observations which are meant to last at least 5 years, but the Telescope may operate for as much as 10 years. From there it will look down in infrared on countless Nebulae, Star Clusters and Systems, providing new, clearer look on already known objects. One of the first Webb's objectives is going to be evaluating on systems with potential exoplanets discovered by Kepler Space Telescope. Another goal may be searching for stars much older than we could previously see. Due to the redshift effect, the further away the object is, the more shifted to red it will be perceived by us. JWST is able to search for much older objects than Hubble, which tend to release more radiation in the infrared frequencies, due to its greater presence in infra-red spectrum.
Conclusion
Webb's Mission has just started, but its success is much anticipated. Its observations will verify countless theories regarding different space objects and provide many additional data which may be useful in the future. Even though, minor malfunctions may be handled by the Telescope itself, any major failure may lead to the end of the mission, because it is too far away to be repaired by a rescue team of Astronauts. Only Time will tell us what we will gain from James Webb Space Telescope…
sources:
James Webb Space Telescope – Wikipedia
1920px-Lagrange_points_simple.svg.png (1920×1636) (wikimedia.org)
https://www.space.com/james-webb-space-telescope-hubble-images
KdXYHLtW4eJLsdhS4H5jGX-970-80.jpeg (500×351) (futurecdn.net)
z4NRcKgKXuUFMbr6qpjHoS.jpg (1280×720) (futurecdn.net)
James Webb Telescope Launched On Christmas, Here Are Five Things You Need To Know As It Head To Space | Investor's Business Daily (investors.com)